Styleguide moderna flooring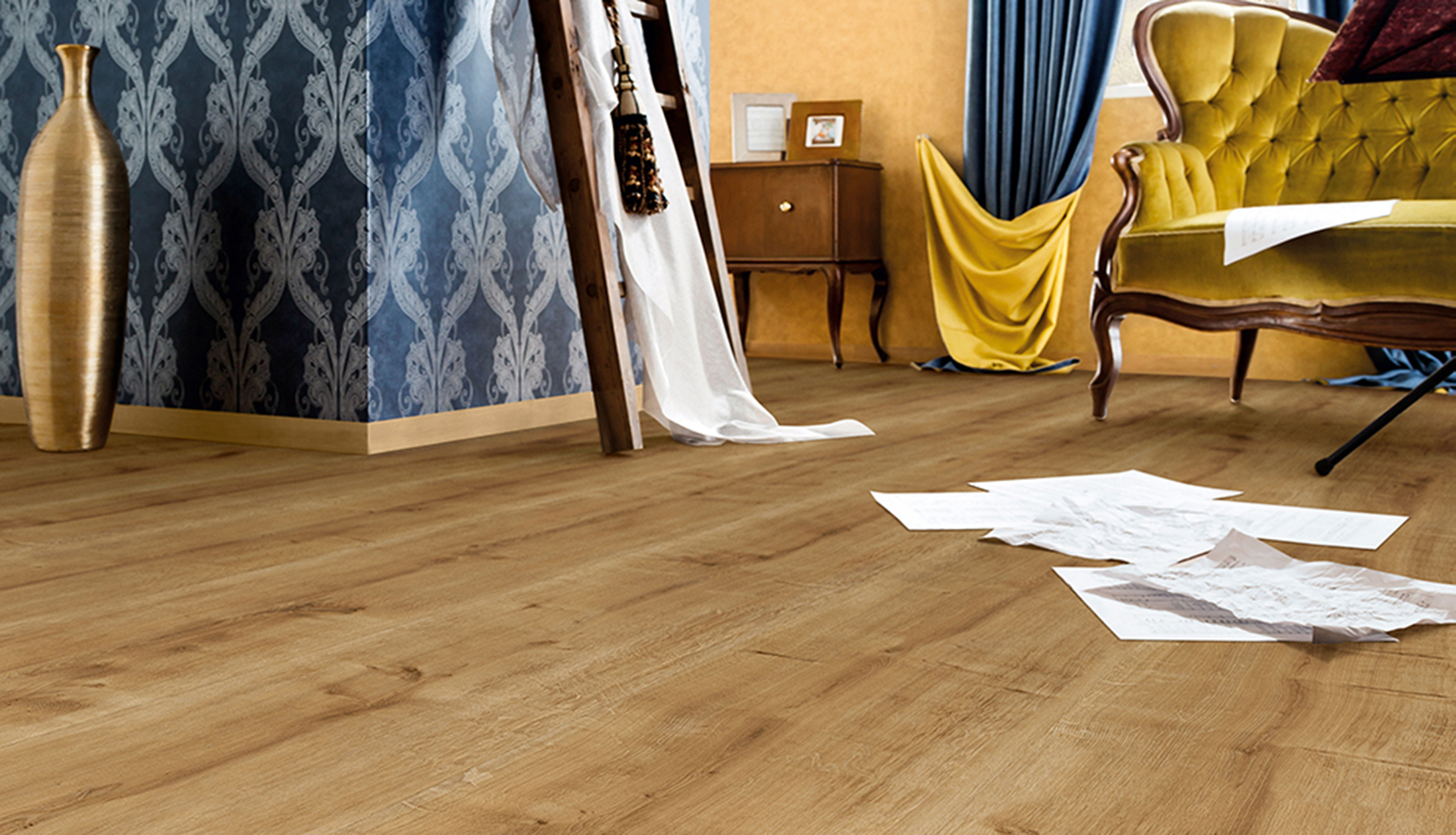 Different wood decors captivate with different characteristics. Which moderna® floor is allowed to move into your home is therefore primarily determined by your personal taste.
Finding the right combination for furniture, floor and wall paint is not so easy. In order to achieve a harmonious and aesthetically pleasing overall picture, a number of aspects are particularly relevant when purchasing your floor.
One thing first:
moderna® flooring collections are ideally suited for all areas of daily life, whether it is a high-quality laminate floor or the trend product vinyl.
Highest quality standards make moderna® products extremely robust and abrasion-resistant. In addition, all laminate collections have a carrier board with improved moisture protection. The use in kitchens and entrance areas is therefore possible without problems.
The majority of moderna® floors can even be used without hesitation in shops, offices, medical practices and also in the catering business.
But how do you find the right floor for your home?
Small rooms:
Small rooms, with little daylight, appear larger and more friendly when they are laid out with a light floor. Choose a calm, even decor. For example light maple tones or grey oak decors. If you want to emphasise the floor, set accents with contrasting colours on a wall or in a particular piece of furniture. But please not too dark!
Light blue or purple shades are particularly atmospheric and well suited. Pastel colours and old pink also have a magical effect.
White tones are always appropriate. White walls visually recede and make the room appear airier and larger.
Textiles such as cushions, blankets or curtains make a room homely. Those who like, choose them in eye-catching trend colours. Timeless classics are all natural colours, from clearly broken white and brown tones to warm orange and red nuances.
Big rooms:
For large, light-flooded rooms, basically all colour variations in the floor covering are conceivable. Your personal preferences decide here.
Take a close look at your furnishing style and the colour scheme of your furniture.
Remember, too many dark colours in combination bring an oppressive atmosphere into the room and look unpleasant. Create contrasts!
When light and dark colours are in balance, a room appears harmonious.
Combine light-coloured furniture with a dark floor and set your interior off to great effect. Dark wood decors, for example in oak look, create a stylish atmosphere and radiate warmth. The special something is given to wooden decking floors by unusual formats. Select a floor with extra long and/or extra wide planks. This creates the impression of a solid wooden floor.
The same applies to wall paint and accessories: dark wood tones are further enhanced by cool, matt colours. Oak woods, whether in the floor or as a piece of furniture, harmonise wonderfully with the colour green.
But be careful not to get too dark in the overall combination!
Light furniture in grey, white or natural wood colours is also particularly suitable for the trendy Scandinavian look.
For this style of furnishing, the more wood the better!
Floors in light wood decors and shades of grey are a perfect match. And it can also be rustic. Light oaks with cracks and knotholes give vintage charm. Grey, white and black dominate the style and are combined with soft, light pastel shades. Textile materials in knitted look or furs do not make the look too cool.
In general, we can say:
Tone on tone does not harmonize well. Furniture and floor sink into the uniform pulp and swallow each other.
If the furniture is in warm wood tones with a lot of brown, yellow or red, choose a cool floor colour. You are never wrong with a neutral shade of grey!
Dark wooden furniture must always be combined with a light floor covering, otherwise there is a risk of the cellar effect.
If you do not want to combine wood with wood, laminate or vinyl tiles in stone look very harmonious. For example, you can create the coveted industrial look with a decor in concrete look.
Especially oak furniture looks very modern.
Test all moderna® flooring decors simply in our online room planner and find the most beautiful colour combinations for your home.